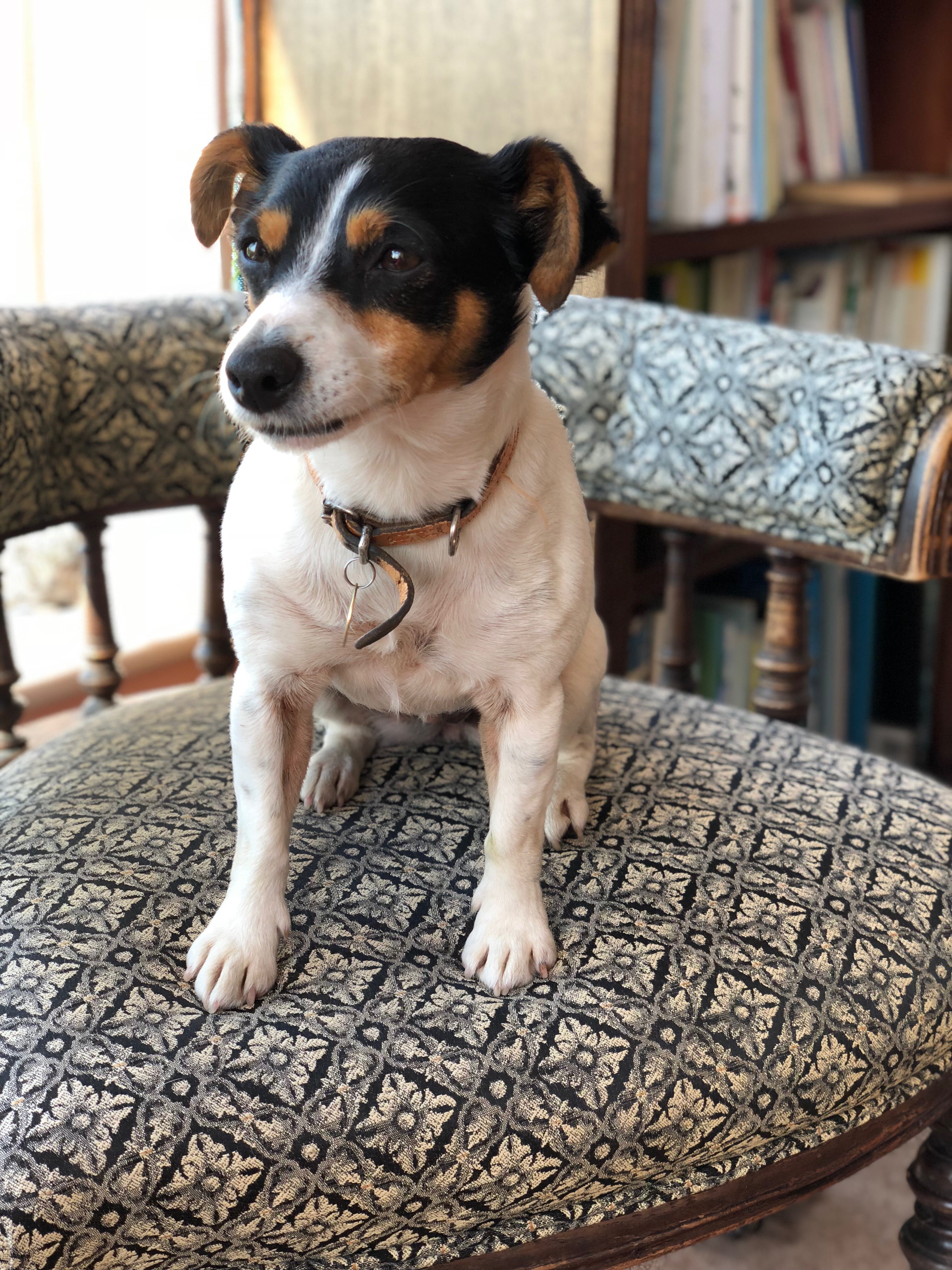 23 May

Hello from England!

I've just landed in post-royal-wedding bliss. England is as green as green can be and hawthorn blossoms float like clouds along the dense hedgerows. I was up early walking through the fields with my mum's Jack Russell, Ella or 'little lovetty', as Mum calls her (pictured here). Then, straight to the desk to do a couple of hours writing.

I was hoping that the manuscript for my novel would be finished by now, that my agent and a publisher would be reading it ahead of my trip to London. Sigh. The creative process is ever thus… Just when I thought the end was in easy reach, I found myself taking hours, days, to polish the first part.

That's because of two reasons: during my Bundanon residency I rewrote part 1 from third person point-of-view (POV) to first person POV and changed from past to present tense. These are major changes that take time to smooth out. Secondly, the 'finishing voice of doubt' has come in.

I talked about this in a recent blog post. The closer we get to completion, the more we can second guess ourselves. This is a normal part of the creative process. We've worked on something precious and when we send it into the world, we fear rejection or criticism.

It's important to take care of ourselves (our inner selves). To recognise what is going on and be kind and patient. The fears manifest in surprising ways. I'm finding I can't read fiction at the moment. Another author's words seem so much better than my own. I wasn't running a workshop at the Sydney Writers' Festival this year and didn't attend any sessions there. I told myself it's because I was busy finishing my novel. In truth, it was to avoid a bad dose of 'comparisonitis' (comparing yourself to others). Once I'd admitted that to a friend, I realised my own fragility.

So, how to keep going? Last year, I got my writing routine back on track through a '66-day challenge.' Apparently, it takes approximately 66 days to create a new habit. This is according to The One Thing. It's worked before, so I'm hoping it should work again. My personal challenge is to write for up to two hours every day. To not miss a single day.

I'll let you know how it goes.

In the meantime, I hope that you are still writing and still creating. Every day I work on my novel it gives my day shape and meaning. It's more than a passion project, it fuels a deeper force within. And cliche though it sounds, it is about the journey, not the destination.