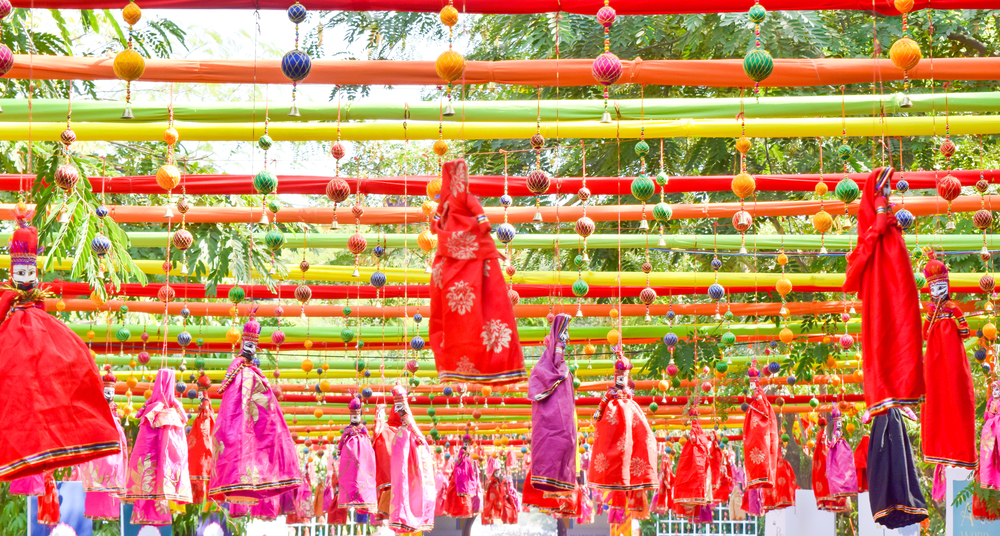 07 Jan

12 Insider Tips for the Jaipur Literature Festival

The Jaipur Literature Festival is now the biggest free-to-attend lit fest in the world. Held every January in Rajasthan, India, it's the Woodstock of world literature. But how can you get the best out of this massive, thought-provoking event? As a seasoned lit fest-goer – I've been to this one twice already – here are my top tips for enjoying this incredible celebration of all things literary.
Arrive early on the first day to receive a royal welcome.
The festival is always held in the rambling 200-year-old grounds of Diggi Palace. The owner, Thakur Ram Singh, stands at the arched entrance greeting the first guests, as if inviting you personally into his home (which, really, he is!).
Turning up early on the first day also means you'll catch a glimpse of the twirling Rajasthani dancers, as well as a good seat for the opening address. At the 2016 edition, Margaret Atwood made the speech and the space was absolutely packed.   
Warm up during the week
The festival gets busy – really busy – so if you're a newbie then go during the week to ease yourself into the programme. Over five days, the festival gets 250,000 visitors (yup!) and the weekend is the busiest time.
Wear layers
Jaipur in January is fresh in the morning, hot and sunny during the day, and cool when the sun sets, so you really need to dress for all seasons. Be sure to bring a pashmina shawl to wrap yourself in, adding a touch of Indian chic to your ensemble for both men and women.
Upgrade your ticket
Buying a delegate pass gives you the rare chance of mingling with the authors attending the festival. It currently costs 3500 INR per day per person, which is around US$50. This will give you access to all the areas where the authors hang out, plus the lounge and restaurant areas, and you'll even get a delicious home-made Indian vegetarian curry for lunch cooked by the Diggi palace chefs. Rose petal ice cream for dessert, anyone?
Go in a group
If you can attend with one or two other friends, do it. This will really help you when it comes to finding seats during the popular sessions, where guests do tend to 'bag' seats. It's always easier when there are a few of you – but make sure you turn up early enough, too.
The palace grounds are quite small so it's easy to bump into people and zip from one packed author session to the next. This is unlike Sydney Writers' Festival, where queues snake around the entire wharf.
Be bold
Authors are a friendly bunch! If you spot Alexander McCall Smith wandering around, go and say hello. India has an effect of relaxing people – as well as the Man Booker Prize winners and their fans.
Take breaks in between sessions
After all, this festival is held in an ancient palace, where there's so much beautiful detail to ponder.  You can also wander among the literary art installations, drink warm, spiced chai from the local Rajasthani chai wallahs, and try your hand at pottery among the art stalls.
Pack light
What's a literature festival without a book stall? You'll no doubt feel inspired and want to take home some books, so make sure you have space in your luggage.
Mix up your festival schedule
Perhaps you're more familiar with the Western writers whose work you've already read, but the programme brings together diverse voices from across the world, with excellent authors from around India. It's an incredible chance to discover extraordinary authors being introduced there to the wider world. Choose a few sessions that you might not usually gravitate towards – it'll be worth it!
 Ask around about festival parties
Most publishers hold lavish events at the major hotels and if you're lucky – and you happen to be talking to the right person – you might just score an invite. Ladies, be sure to bring at least one frock, as they tend to be semi-formal events. If you miss out, there are often impromptu musical performances after the day's events. The friendly Teamworks volunteers, who will be dressed in purple, are on hand to offer help with directions.