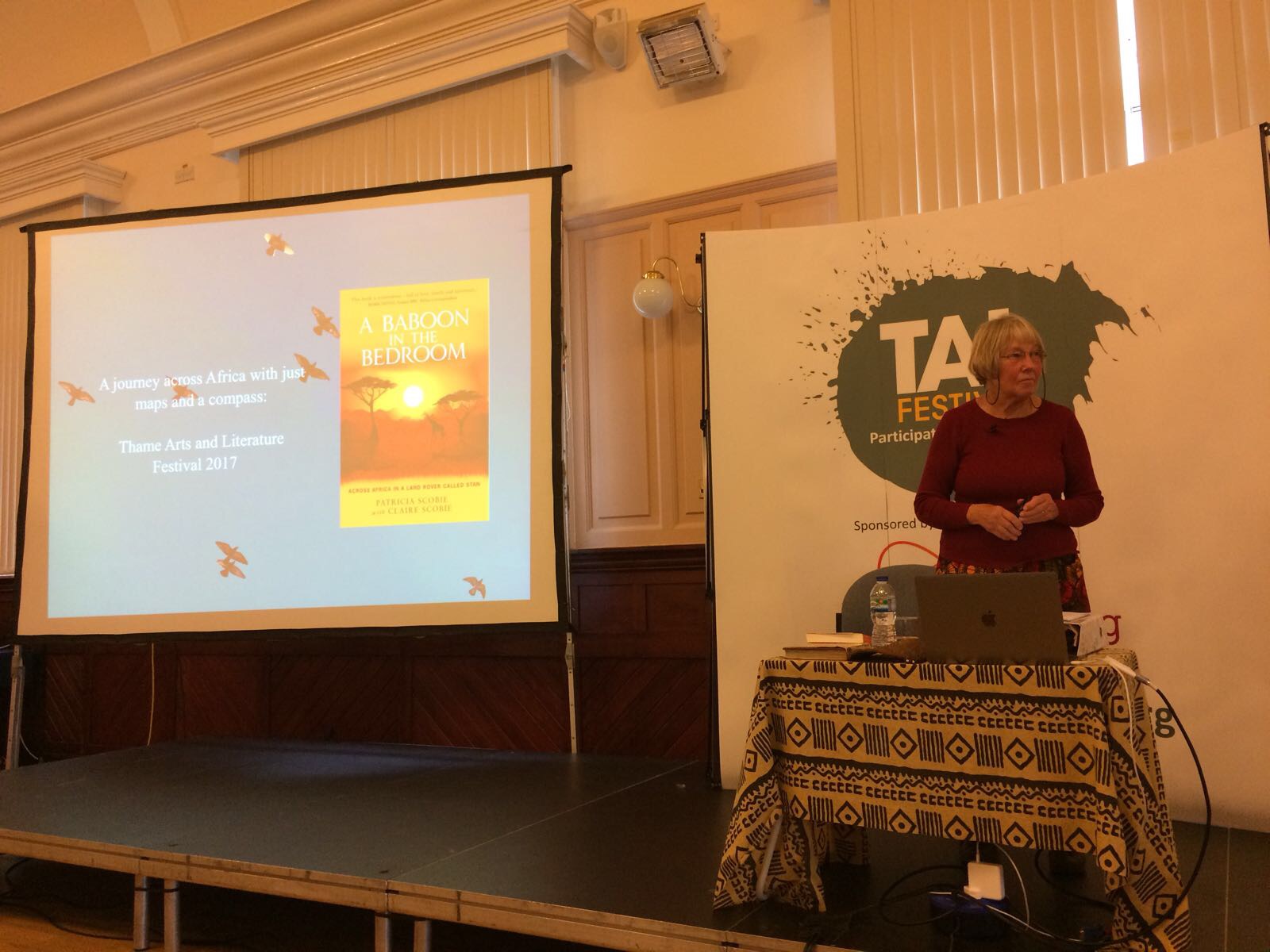 16 Oct

Should You Self-Publish or Go Traditional?

Last week my mum gave her first talk at the Thame Arts and Literature Festival in the UK. People laughed at her jokes, asked interesting questions and she sold 10 copies of her memoir A Baboon in the Bedroom. At 79 years old she's finding a new identity for herself as an independently published author — a possibility that wouldn't have been possible five years ago.

So, this week, I'm going to do the first of several posts on the difference between the two publishing routes.

I've been traditionally published (Last Seen in Lhasa), I've crowdfunded a book (The Pagoda Tree through Unbound) and as co-author with my mum, I've self- or indie-published as it's now known. I'm no expert but going through the process has taught me a lot that's worth sharing. While this list isn't exhaustive, it's a personal approach that aims to address some of the key differences.

Benefits of traditional publishing
Prestige.
For many aspiring authors, this is still the Everest that people hope to climb. It's got status and longevity to its name. It strokes the ego as there's always the hope that your book will become the next bestseller.
Professional help.
When you sign with a publisher, you have access to a curated suite of editors, proof-readers, cover designer, typesetters and printers. As an author, it's a real privilege to work with a leading editor. I've learned a huge amount from good editors as their goal is to help you become a better writer. For a first-time author, that's a big relief.
Distribution.
The biggest advantage of traditional publishing is that they have the established networks for your book to be sold in bookstores, at airports and online.
Publicity and media coverage.
While it's getting harder to get print reviews in the traditional media because of shrinking newspaper size, it is still possible. You also enjoy a publicist for 4-6 weeks (more if you're lucky) to help promote your book.
Money.
Generous advances are rare but authors can still hope for a payment usually split two or three-ways — on signing the contract, on delivery of the manuscript and on publication — for their title. If you then 'earn out', that is pay back your advance through your book sales, you can expect royalties of around 10% per copy sold (the exact amount depends on print vs e-book).
Disadvantages of traditional publishing
Stiff competition.
Historically, publishers are the gatekeepers of writers, deciding what should and shouldn't get published. This has only increased as the publishing industry has been squeezed so it's really tough to get a book deal these days.
Length of time.
Coupled with competition is the time you have to wait to a) hear back from a publisher once you've submitted your manuscript — it's common to hear nothing at all or if you do get a response expect to wait months b) once you sign a deal, it takes 6 – 12 months to get published.
Territorial rights.
A publisher will usually ask for world English-speaking rights and they may ask for audio and e-book rights. Of course, you can refuse to sign away all your rights. I encourage authors to hold on to as many rights as they can because often a publisher will not take the necessary steps to get the book published in other territories or promote it if it is published elsewhere.
Sausage-machine.
Sadly, I've seen how new authors are signed up, their book is published, they are thrilled to see it in the bookstores for 6 – 12 weeks and then once the publicity tapers off, within a year or two years, the book is out of print. After years working on a project, this can be very demoralising and happens to both newbies and mid-list authors who've had several titles published.
Lack of ongoing marketing support.
While you do get assigned a publicist, as an author you still have to do much of the promotion yourself. You're expected to have an author platform, website, have a social media presence, do events, blog tours… the list goes on.
Benefits of indie publishing
Control.
Project-managing our travel memoir has been a fun process where my mum and I could make all the decisions on the content of the book, the cover design, title, who we worked with and where we got it printed. While we've taken our time, indie publishing can be incredibly quick. You write your book in Scrivener, you compile the manuscript as an e-pub file, you get it edited and proofread, you upload to Vellum to typeset your book, you get a cover designed and then hey presto, you can either upload directly to Amazon or to one of the online distributors like Create Space, Draft to Digital or Ingram Spark.
Potential earnings.
It's too early for me to give any of our sales figures but there are many indie authors who make a decent and regular monthly salary from their books. In traditional publishing, you get spike earnings — when you receive the separate payments for the advance and then royalties — as an indie author with several titles. But for indie, you can expect a steady income building over time from online sales and print on demand. There are dozens of examples of indie authors earning six-figure incomes.
 You choose.
Unlike trad publishers who prefer fixed genres (crime / travel), as an indie author you can write whatever you want and blend genres and still find an audience. This is harder for fiction but certainly works for non-fiction. In fact David Longfield of Longueville Media said to me that 'if you know your target audience, you can indie publish.' So if you're writing a book on being a 50-year-old gap year traveller who wants to cross Africa in a Land Rover… say… you can find that specific niche and market directly to potential readers online.
Creation of a loyal audience.
When you traditionally publish, you never know who actually buys your book. So, when your next book comes along you haven't got a ready-made readership. Obviously you can build one but this takes time and the publisher always remains the gatekeeper. With indie publishing, you can create a longterm connection to an audience through email marketing. If they like your supernatural thrillers, they'll be hungry for the next one in the series.
Split rights.
I really enjoy listening to successful indie author Joanna Penn who has been doing this since 2009. She encourages writers to think about all the different ways one book can make money. For instance, audio titles are a growth area. Or, Amazon is opening up in Brazil so you could publish separately there. The possibilities are endless.
Disadvantages of indie publishing
Reputation.
Five to ten years ago, there's no doubt that indie or self-publishing had bad press. It was often seen as 'vanity publishing' and authors who went down that path weren't taken seriously. That all changed with the arrival of Amazon and e-books. This opened up new channels. The opportunities for indie authors is growing exponentially as new services emerge (like Vellum, for example). Some authors still feel that they won't be taken as seriously if they indie publish. While that can be true, there are examples where if you indie publish first and you prove that you have sales, you can then get a trad publishing deal later.
Distribution.
While there are options for indie authors to get their books distributed, this is the hardest hurdle to overcome from my perspective. In Australia, Dennis Higgins distribute print books to bookshops (but not all bookshops) and Ingram Spark distribute e-books worldwide through Amazon, Kobo and Apple iBooks. The classic image of a self-published author with 1000 unsold copies of their books in the garage is a thing of the past. You can now get as few as 50 printed at a time and your reader can buy a single copy from Amazon that is printed on demand and shipped directly to them.
Marketing.
Clearly, you don't get an assigned publicist when you indie publish so all of this is up to you. If you are someone who really can't handle self-promoting or social media or is a complete tech-a-phobe, then this is going to be a challenge. But then again trad publishers have recently told me that if an author hands them a book and expects them to promote it, they will now decline because every author has to do their own marketing,
Learning about a new industry. It's taken me a while to figure out — and I'm still learning — the indie publishing world. There are many choices to make but there are lots of ways to learn via podcasts and online. You can do it all yourself or you can work with a company to do one aspect for you. With A Baboon in the Bedroom, we worked with Longueville Media. They typeset the book and patiently answered my many questions during the process. They charged a modest fee for this so you do need initial funds if you go down that route. If you do it all yourself, you can use a service like Draft to Digital or Vellum to save money.
Finding a good editorial team.
Indie publishing has had a bad rap. This is because some of the books out there are truly awful: littered with typos, terrible covers, poorly typeset. This was especially true at the beginning but I still regularly see mediocre products. Your book needs to be properly edited and proof read. Plus, it needs to have an attention-grabbing book cover. I encourage all indie writers to spend money on getting that professionally done — even if you do go to sites like BookBub for a generic cover. I was lucky enough to work with the same team who edited and proofed Last Seen in Lhasa… but how that all happened is another blog post!
I'd love to hear from you. What do you think about trad vs indie? Are you game enough to try indie?